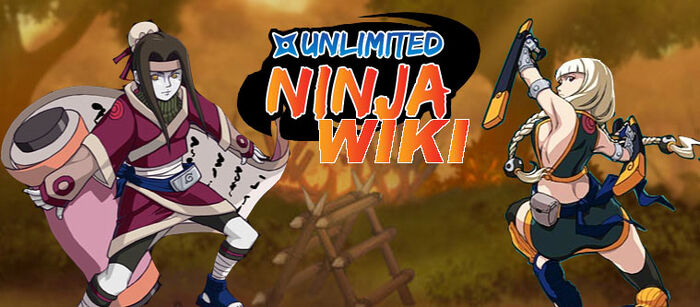 UNLIMITED NINJA WIKI
This is a fan made wikia for Games.la's Unlimited Ninja. If you want contrubute feel free to edit and add any pages you feel this wikia is lacking on information please give it knowledge.
Unlimited Ninja is  based on the popular series of Naruto Manga. This game is a free-to-play 2D side-scrolling MMORPG that lets you create a character and play in the world of popular anime: Naruto. It's a browser based game, meaning no download necessary.
The game flows along the real anime/manga storyline and brings forth more relastic feelings to an anime/manga character. The upcoming RPG features plots rooted in the Naruto world, alongside with original drawing styles and unique gameplay features that utlize the latest web-based gaming technologies for maximum accessibility. This game is also a world-wide game so meeting someone across the globe is also a great thing about this game. Are you ready to join in the fun?

Unlimited NinjaCome check the world where becoming a six path, fighting along side with Naruto, Sasuke, Sakura and many others ain't just a dream. 
Introduction to Unlimited Ninja ~ Types of Ninjas and their Skills.

Ninjutsu competition can be found ev of Ultimate Ninja. Different ninjas use different schools and classes and each of them has distinctive features. So now let's take a look at these features.
There are three schools in Unlimited Ninja: Genjutsu, Ninjutsu and Taijutsu. Each school has one male character and one female character.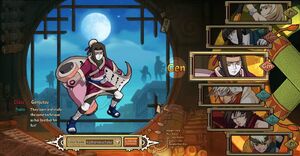 Genjutsu
Genjutsu ninjas own an immortal body.
The male Genjutsu ninja is the older brother of the Onmyoji family's twin, has an immortal body, and is good at discovering various secret techniques and forbidden techniques. The female Genjutsu ninja is very talented, she learns techniques with her brother and loves to study secret techniques.



Taijutsu
Taijutsu ninjas are extremely good at Taijutsu.
The male Taijutsu ninja has a talent and only loves Taijutsu and is extremely good at it. The female Taijutsu ninja has an incomparable knowledge of Taijutsu, straightforward and gentle at the same time.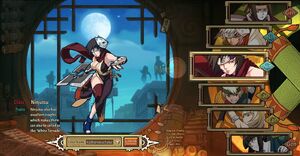 Ninjutsu
Ninjutsu ninjas have an unique understanding on all types of ninjutsu.
The male Ninjutsu ninja has a very sharp understanding on all types of ninjutsu and is called the White Cyclone. The female Ninjutsu ninja has unique understanding to ninjutsu, and is called Duo Devil with White Cyclone.


Game News

June 18, 2014 Prospect of Unlimited Ninja New Systems has been announced. A new Guild vs. Guild feature is in process of being implemented. Visit the link for full details regarding this new system.
June 17, 2014 Announcement for Elite Match & Compensation has been made. Players above LV. 72 will receive a compensation which contains 200 top stone and 100 colorful soul.
June 16, 2014 New Server S527 Released Unlimited Ninja S527- Tethys will go live at 09:00, June 16, 2014(CDT, server time).
June 15, 2014 Server Update on June 15, 2014 has been scheduled. The new update will include changes to the menu configuration, introduction of New Items, as well as bug fixes.
June 12, 2014Server Update Delays on June 12, 2014 have been reported. Due to technical problems the update will be delayed until the morning of June 12, 2014.
June 9, 2014 Server Update on June 9, 2014 has been scheduled. Update will include the addition of the Treasure Tree, Forbidden Jutsu Lab, Newbie Gear, and a Help area. Display, translation, and typographical errors have also been corrected.