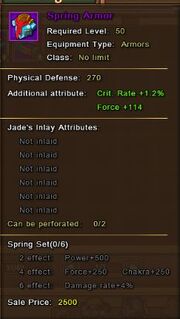 Spring Armor is made available to Forge at Level 50 with 5 Spring Ore and 20 Moon Spring


Attributes:
Edit
6 Jade's Inlay Attributes (Can be perforated 2 times)

Additional Attribute may be changed when you Refine your equipment.
You can expand your Jade's Inlay by 2 sockets in the Refine menu.




Spring Set Bonus
Edit
Bonus stats that you can get when you have 2,4, and 6 items of this same
Spring Set
.
4 Effect: Force +250  and Chakra + 250
6 Effect: Damage rate +4%
With 120
Moon Spring
and 15
Spring Ore
, Spring Armor can be upgraded to
S.Forge Spring Armor
.
Server Name:Mantis [243]
IGN:Orez