A gift pack will be given to you at the start of the game, each pack can be opened at a certain level (usually every 5 or 10 levels - I.E ,10,20,30,40,50,60,70,75,80 etc)


Each gift pack contains various items, sometimes including, but not limited to: Coupons, Purple souls, equipment sets, Silver cards, Channel scrolls and Soul Refining pills.


Once a gift pack is opened you will automatically receive the next Gift Pack. Gift packs are of great use as they contain equips,souls and other things which a non-vip can't get.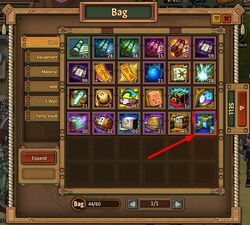 Lv. 20 Gift Pack
Lv. 5 Silver Card*10
Refined Kunai*1
Refined Shuriken"1
Refined Scroll"1
Refined Headband"1
Refined Armor*1
Refined Coat*1
Refined Boots*1
Refined Belt*1
Level 40 Gift Pack
Silver Card*10
Skip Card^20
Blazing Kunai
Blazing Shuriken
Blazing Scroll
Blazing Headband
Blazing Armor
Blazing Boots
Blazing Coat
Blazing Belt
Channeling Scroll*10
Lv. 60 Gift Pack*1 
Lv.5 Silver Card*25
Coupon*50
Skip Card*10
Spring Kunai*1
Spring Shuriken*1
Spring Scroll*1
Spring Headband*1
Spring Armor*1
Spring Coat*1
Spring Boots*1
Spring Belt*1
Channeling Scroll*1
Gem Gourd*1
Lv. 70 Gift Pack*1
Lv. 5 Silver Card*30
Coupon*50
Skip Card*10
Purple Ninja Soul*100
Channeling Scroll*20
Lv. 75 Gift Pack*1
Lv. 5 Silver Card *35
Coupon*50
Skip Card*10
Blood Kunai*1
Blood Shuriken*1
Blood Scroll*1
Blood Headband*1
Blood Armor*1
Blood Coat*1
Blood Boots*1
Blood Belt*1
Big Potency Pill*15
Channeling Scroll*20
Soul Refinining Pill*5
Level 80 Gift Pack
Level 5 Silver Card*40
Coupon*50
Skip Card*10
Rock Kunai*1
Rock Shuriken*1
Rock Scroll*1
Rock Headband*1
Rock Armor*1
Rock Coat*1
Rock Boots*1
Rock Belt*1
Big Potency Pill"20
Channeling Scroll*30
Colorful Spar*5
Soul Refining Pill*10
Lv. 5 Silver Card *45
Coupon*50
Skip Card*10
Fire-Forged Kunai*1
Fire-Forged Shuriken*1
Fire-Forged Scroll*1
Fire-Forged Headband*1
Fire-Forged Armor*1
Fire-Forged Coat*1
Fire-Forged Boots*1
Fire-Forged Belt *1
Big Potency Pill*20
Channeling Scroll*30
Colorful Spar*10
Fairy*10
Leap Rune Stone*10
Soul Refining Pill*10